FSB Wealth Management offers an array of products through Ameriprise Financial Institutions Group (AFIG), member FINRA and SIPC. Please contact Heather Mariotti, Financial Advisor, at (309) 662-0411 for more information.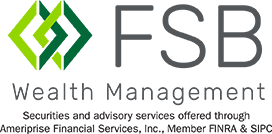 Financial advice to help you achieve your goals
FSB Wealth Management offers an investment services program through Ameriprise Financial Institutions Group, a channel of Ameriprise Financial Services. Through on-site financial planning and investment solutions, they partner with us to help you reach your financial goals. Financial Advisor, Heather Mariotti, is available at our Bloomington location to speak with you about your financial goals.
Why work with a financial advisor?
You work hard for what you earn — and want to do all you can to make sure you save and invest wisely. A financial advisor can help you achieve your short and long-term financial goals, whether you have one or many, as well as plan and prepare for unexpected events that might arise. Through an ongoing, collaborative relationship with an advisor, plus secure anytime–access to your accounts online, you can track your progress toward your goals anytime and receive timely advice when you need it.
A comprehensive approach
We care about what matters most to you. That's why we've established a relationship with Heather Mariotti, who dedicates her time to helping you achieve your financial goals. Together, you and Heather will evaluate your financial life to see how it all fits. From there, she will work with you to address key needs, consider tax strategies and find ways to help fill any gaps that could keep you from achieving the lifestyle you want. Through personalized financial advice, Heather will help you prioritize what's important today, while planning for a confident financial future.
Solutions and advice aligned to your goals
The Ameriprise Financial Institutions Group program allows us to align with the expertise and resources of Ameriprise Financial. You will have access to wide-ranging advice — from point-in-time investment recommendations and asset allocation strategies, to a comprehensive financial planning approach that covers key aspects of your financial life — to help you meet your goals. And, your advisor can provide access to a broad array of solutions to meet your specific needs, including investments, insurance and annuities, personal trust services, cash and cards.
Products and services available through Ameriprise
Financial planning
Retirement planning
Investments
Funding education expenses
Insurance and annuities
Estate planning strategies
Retirement income strategies
Tax planning strategies
To learn more about AFIG and the services that are offered, please visit www.ameriprise.com.
Additional information can be obtained from the Financial Industry Regulatory Authority (FINRA) website, www.finra.org.
Check the background of this investment professional on FINRA's BrokerCheck.
Information regarding the Securities Investor Protection Corporation (SIPC), including a SIPC brochure, may be obtained by contacting SIPC via its website at www.sipc.org or by telephone at 202-371-8300.
Brokerage Account Login & Information
---
Contact Heather Mariotti, Financial Advisor, at (309) 662-0411 for an appointment to discuss how our services might benefit you and your family's financial future. She will be glad to visit with you with no further obligations.
---
NO BANK GUARANTEE l NOT A DEPOSIT I NOT FDIC INSURED l NOT INSURED BY ANY FEDERAL GOVERNMENT AGENCY I MAY LOSE VALUE. All Securities and Advisory Services offered through Ameriprise Financial Institutions Group (AFIG), a Registered Broker/Dealer & Registered Investment Advisor and member FINRA & SIPC. The investment services offered by AFIG under the name FSB Wealth Management are in no way affiliated with or offered by First State Bank of Bloomington, nor is First State Bank of Bloomington a registered broker/dealer. Customers working with FSB Wealth Management will be dealing solely through AFIG with respect to their investment, brokerage and securities transactions. AFIG does not offer or provide legal or tax advice. Please consult your attorney and/or tax advisor for such services. The products offered by AFIG are not insured by the FDIC, the NCUA or any other agency of the government, are not deposits or other obligations for the bank or guaranteed by the bank and involve investment risks, including possible loss of principal amount invested.